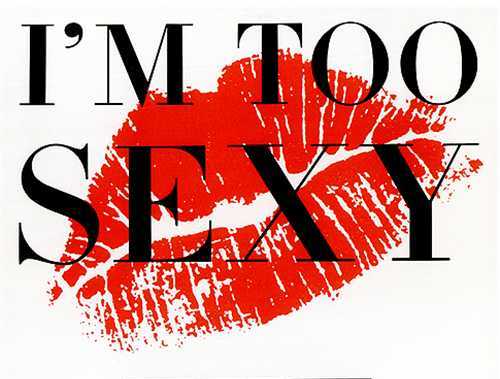 Today at 4pm ET/1pm PT, Jessica Northey and I have a #HeySTAR Twitterview with the iconic Right Said Fred. Their song, "I'm Too Sexy" was a huge hit and is one we still recognize as soon as we hear it come on. I don't think there is anyone who hasn't sung a few verses at a party or just for no reason at all. 
Be sure to follow @HeySTARLive, @JessicaNorthey, me @teeco71, and @TheFreds. Use the hashtag #HeySTAR to join in on all the fun. Feel free to ask them a few questions of your own throughout the hour because they will be addressing fan questions in addition to ours! 
In Light of our interview, I thought it would be fun to make a list of things we are "TOO SEXY" for. I would LOVE for each of you to weigh in with your own ideas as well!
I'm TOO SEXY for: 
My job (seriously, if you only knew)
drama (who needs it?)
fake friends (bye Felicia)
Flying Coach (haha)
Bad attitudes (check those at the door)
Posers (Nobody got time for that)
Gossip (get a hobby)
Traffic (again, seriously)
Long lines (We've got places to be)
My workout (can't we just all be naturally slim, trim, healthy, & sexy?)
Bad fashion (should be outlawed)
ugly shoes (especially if they're also uncomfortable)
What things are you TOO SEXY for? 
Although I may not be a teen, I am up on all the entertainment today's teens, tweens, and young adults have available to them and I must admit, I have my favorites. Tonight FOX will be airing the Teen Choice Awards at 8PM. As with any award show, whether I am attending or watching from home, I will be tweeting along with all of you. Here is a list of the categories and nominees. I would LOVE to hear from you with your predictions and reactions throughout the show.
I indicated my predictions in BOLD, feel free to leave yours in the comments:
Choice Movie: Action/Adventure
Furious 7
Insurgent
Kingsman: The Secret Service
San Andreas
The Maze Runner
Tracers
Choice Movie Actor: Action/Adventure
Ansel Elgort – Insurgent
Dylan O'Brien – The Maze Runner
Paul Walker – Furious 7
Taylor Lautner – Tracers
Theo James – Insurgent
Vin Diesel – Furious 7
Choice Movie Actress: Action/Adventure
Alexandra Daddario – San Andreas
Jordana Brewster – Furious 7
Kaya Scodelario – The Maze Runner
Maggie Grace – Taken 3
Michelle Rodriguez – Furious 7
Shailene Woodley – Insurgent
Choice Movie: Sci-Fi/Fantasy
Avengers: Age of Ultron
Cinderella
Mad Max: Fury Road
The Hobbit: Battle of the Five Armies
The Hunger Games: Mockingjay – Part 1
Tomorrowland
Choice Movie Actor: Sci-Fi/Fantasy
Channing Tatum – Jupiter Ascending
Chris Hemsworth – Avengers: Age of Ultron
George Clooney – Tomorrowland
Josh Hutcherson – The Hunger Games: Mockingjay – Part 1
Liam Hemsworth – The Hunger Games: Mockingjay – Part 1
Robert Downey Jr. – Avengers: Age of Ultron
It's that time of year again! As a fan of television, I am always excited about the Emmy Awards and you know I'm getting ready to head to Los Angeles to participate in events leading up to the evening. I'm looking forward to gathering with my colleagues and working with the trend-setting people at Vanity Fair.
Plans have already begun and the excitement is building. I know once I get into LA, I will be able to feel all of the energy and the days leading up to the Award Show will be packed with so much goodness.
Here is a list of the nominees as reported by Variety, I have indicated by picks in BOLD and encourage you to weigh in with your own predictions!  I am thrilled to see American Crime get so many well deserved nods. If you follow me on Twitter and Facebook, you know I have been privileged to be involved with this show from early on thanks to the wonderful people at Vanity Fair Agenda and Vanity Fair Social Club. I was truly a rewarding experience to watch and to see so many of you enjoying it along with me. The conversations American Crime sparked were valuable and hopefully ongoing. 
OUTSTANDING DRAMA SERIES
"Better Call Saul"
"Downton Abbey"
"Game of Thrones"
"Homeland"
"House of Cards"
"Mad Men"
"Orange is the New Black"
OUTSTANDING COMEDY SERIES
"Louie"
"Modern Family"
"Parks and Recreation"
"Silicon Valley"
"Transparent"
"Unbreakable Kimmy Schmidt"
"Veep"
LEAD ACTOR, DRAMA
Bob Odenkirk, "Better Call Saul"
Kyle Chandler, "Bloodline"
Kevin Spacey, "House of Cards"
Jon Hamm, "Mad Men"
Jeff Daniels, "The Newsroom"
Liev Schreiber, "Ray Donovan"
LEAD ACTRESS, DRAMA
Taraji P. Henson, "Empire"
Claire Danes, "Homeland"
Viola Davis, "How to Get Away with Murder"
Tatiana Maslany, "Orphan Black"
Elisabeth Moss, "Mad Men"
Robin Wright, "House of Cards"
LEAD ACTOR, LIMITED SERIES OR MOVIE
Timothy Hutton, "American Crime"
Ricky Gervais, "Derek Special"
Adrien Brody, "Houdini"
David Oyelowo, "Nightingale"
Richard Jenkins, "Olive Kitteridge"
Mark Rylance, "Wolf Hall"
LEAD ACTRESS, LIMITED SERIES OR MOVIE
Felicity Huffman, "American Crime"
Jessica Lange, "American Horror Story"
Queen Latifah, "Bessie"
Maggie Gyllenhaal, "The Honorable Woman"
Frances McDormand, "Olive Kitteridge"
Emma Thompson, "Sweeney Todd: The Demon Barber Of Fleet Street"
LEAD ACTOR, COMEDY
Anthony Anderson, "black-ish"
Matt LeBlanc, "Episodes"
Don Cheadle, "House of Lies"
Will Forte, "The Last Man On Earth"
Louis C.K., "Louie"
William H. Macy, "Shameless"
Jeffrey Tambor, "Transparent"
LEAD ACTRESS, COMEDY
Lisa Kudrow, "The Comeback"
Lily Tomlin, "Grace And Frankie"
Amy Schumer, "Inside Amy Schumer"
Edie Falco, "Nurse Jackie"
Amy Poehler, "Parks And Recreation"
Julia Louis-Dreyfus, "Veep"
What I'm looking forward to in Entertainment
CTV Upfronts, Toronto, CA
Summer TV Season
Emmys 2017
San Pedro Film Festival
Fall TV Season